Megan McConnell is a Director at Anthony Meier Fine Arts, where she has worked since arriving in San Francisco in 2010. She received her MA in Visual Arts Administration from New York University in 2005 and her BS in Business Administration from University of North Carolina in 2003. Prior to joining the gallery, McConnell worked with artists at Gagosian Gallery in New York. In her current role, McConnell represents the gallery at domestic and international art fairs, and works closely with the gallery's artists to mount exhibitions and advance their careers. She is currently organizing an exhibition with the artist Tavares Strachan opening at Anthony Meier Fine Arts in November 2015.
Kerri Hurtado is a Curator at Artsource Consulting, a full service art consulting company specializing in the development of fine art collections and exhibitions for residential, commercial and public art projects worldwide. Prior to joining Artsource Consulting in 1997, Ms Hurtado worked at the San Francisco Museum of Modern Art in development. Ms Hurtado is a member of the San Francisco Council of Artadia and has participated on the San Francisco Arts Education Program Advisory Committee. She also has served as President of the Board of Directors for the San Francisco Cinematheque. She has a BA in Art Administration from San Francisco State University where she focused on non-profit art organizations.
Amy Cancelmo received her MA in Queer Art History from San Francisco State University in 2011 and a BFA in painting from Syracuse University in 2004. Her current creative pursuits focus on curatorial practice, research & writing. In her current position as the the Art Programs Director for Root Division, Cancelmo oversees twelve exhibitions and works with over five hundred artists annually. Her most recent independent curatorial project, "Strange Bedfellows," was a nationally traveling exhibition and catalogue exploring collaborative practice in queer art making. As a curator, Cancelmo is interested in presenting work that addresses current social issues and creates opportunities for dialogue, learning, and critical engagement by all participants.
Julie Lazar is an independent curator and directs ICANetwork.org, an arts consultancy firm whose clients include: American Film Institute, Art Center College of Design, Cornerhouse (UK), Creative Capital, Freewaves, Getty Museum, Hirshhorn Museum and Sculpture Garden, KCET Independent Public Television, Los Angeles' Metro Arts Program, Museum of Contemporary Art-Los Angeles, Montalvo Arts Center, Nasher Sculpture Center, Orange County Museum of Art, San Francisco Art Institute, San José's Cultural Affairs Department, Santa Monica Museum of Art, among others. Julie Lazar served as a founding Curator then as Director of Experimental Programs at The Museum of Contemporary Art, Los Angeles from 1981-2000. She led development programs in New York at PS 1 Center for Contemporary Art (now MoMA PS 1), The Hudson River Museum, and The Museum of Modern Art. As an independent curator, Lazar commissions new art in all media.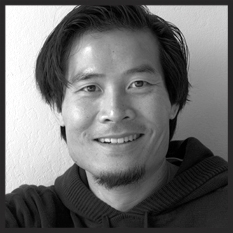 Michael Zheng, a conceptual and performance artist, was born and grew up in China. He studied computer science at Tsinghua University in China and worked in Silicon Valley for ten years as a software designer. Later he left his job to attend San Francisco Art Institute and at Skowhegan School of Painting and Sculpture. His work is influenced by his interest in Ch'an Buddhism's notion of intrinsic nature of all things. He is interested in bringing awareness to the spatial, historical and cultural characteristics of the context, or subject matter. Using interventionist thinking and a conceptual approach infused with sincerity, absurdity and humor, he creates situations that question established positions so that new perspectives can be experienced. His works are characterized by a performative nature and are shown in the form of photographs, video, sculptural installations and site-specific interventions.